Summer Programs
2021 SUMMER ABROAD and STUDY AMERICA!!!! PROGRAMS!
Check out our 2021 summer programs.
Watch the tutorial first (look for the windsock) to figure out how to work your way around the presentation!
January 25, 2021 UPDATE



***WW Program for Business is still a GO in Summer A. All Daytona summer programs will be moved to summer B or cancelled. Please check with lead professors about the program you are interested in participating on.***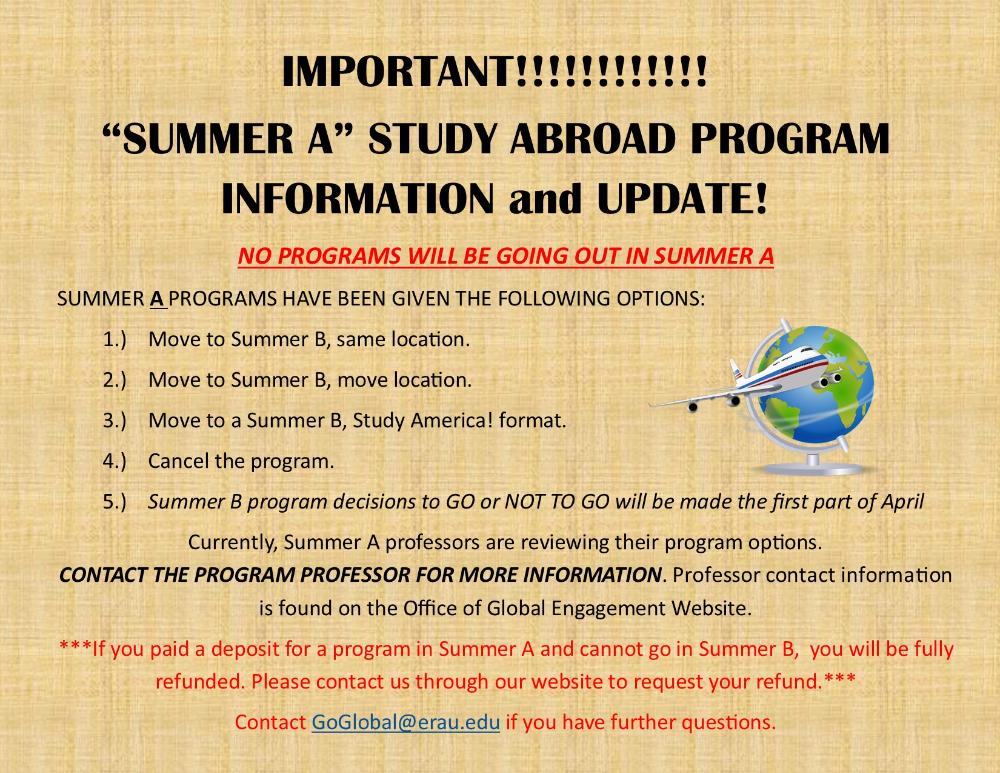 January 13, 2021
IMPORTANT: check entry requirements to the country or countries you will be flying into to insure you have the necessary documents and tests prior to arrival. Without proper documentation, you could be returned to the US or country or origin.
IMPORTANT PASSPORT INFORMATION
As of October 1, 2020 the Department of State is offering normal processing times for passports (10-12 weeks) and expedited processing times (4-6 weeks)
Programs last between 2-5 weeks and you may take anywhere between 3 and 9 credit hours depending on the program.
Students may participate in Daytona and Prescott programs.
Summer programs are open to all students from all campuses.
Financial aid applies for all programs.
Courses are taught in English by Embry-Riddle (ERAU) faculty.
Most programs use the Pass/Not pass grading system (check with the individual program to see how you will be graded).
Many programs include a three-day weekend.
Field trips that are part of the program are included in the program fee.
Requirements
At least sophomore standing (exceptions may be made on a case-by-case basis)
At least a 2.5 cumulative grade-point average (CGPA), in most cases
A valid passport and/or required Visas by the first Friday in April
$100 application fee (non-refundable unless program is cancelled)
$400 deposit (not refundable after program cancellation date which is the same as the last official day to register)
Students will be registered for summer classes by the Office of Global Engagement
Application and Deposits
*****Application and Withdrawal deadlines are the same day.*****
Fill out the
application for a summer program
. An 'Apply Now' button can be found on each program page. The application is handled online.
The Office of Global Engagement strongly advises program participants to purchase fully-refundable airline tickets and/or trip cancellation insurance after they are committed to their program to safeguard against losses or penalties related to airfare should a program be cancelled, its dates change, or unforeseen circumstances cause the student to withdraw from the program. The Office of Global Engagement assumes no responsibility for such losses or penalties.
Questions? Call us at 386.226.6215 or email us at
goglobal@erau.edu
.
Deadlines for Applying and Cancellation
Summer A programs: last Monday in February unless program deadline noted differently
Summer B programs: 1st Monday in March unless program deadline noted differently
Cancellation
If you must cancel your participation in one of the Summer Programs, please submit a
Summer Program Cancellation form
. Be aware that if you cancel after the refund deadline (check the individual programs for refund deadline), you will be held responsible and will be charged a
cancellation fee of at least $1,500
(possibly more), depending on the costs incurred on your behalf.
The deadline for cancellation and application is the same day.